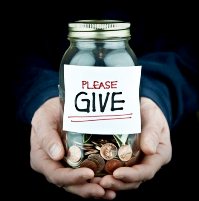 Why you, too, should help us out
The Barnes Review is a commercial enterprise. Although it is managed like a non-profit organization, we have abstained from registering it as such, because a non-profit status gives the federal government the right to scrutinize our enterprise thoroughly, which it has used in the past to massively interfere with, inhibit and undermine, if not destroy our operations.
That being said, any organization which publishes material critical of government-approved historiography is struggling financially, as only little, if any, financial support from the mainstream can be expected for such activities. After all, most historians are government employees at the history departments of state-run universities.
There are some activities which should – and for the most part do – finance themselves, like the publication of commercial books, our flagship magazine The Barnes Review, and videos. In those areas, the only activity that depends to some degree on donations is the attempt of extending the reach of our magazine by promotional mass mailouts and media advertisements. If you are interested in helping us with that, we'd truly appreciate it.
There are, however, two aspects of our enterprise, which do not have a commercial aspect to them at all, but which are driven exclusively by our philanthropical desire to spread accurate and important information:
In 2009, The Barnes Review has taken on the legacy of publishing and disseminating this prestigious revisionist series of books on one of the most influential events of modern history. The books are academic in nature and very expensive in their creation, which includes research, writing, translation, and multiple stages of editing. Since they currently reach only a niche market, they have to be printed on demand, which is a rather expensive process as well. As a result, university-style specialty books like these usually cost somewhere between $100 and $200, but we offer them for prices very close to mass market paperbacks. As a consequence, most of the authors, translators, proofreaders, and editors are inadequately paid, if at all. To top it off, we offer all these books as free downloads, so that everyone afraid of revealing their identity to us (or anyone) or who simply cannot afford to buy them, can still read them.

It goes without saying that heavily footnoted acadmic specialty books are targeted only at a selected group of readers. To reach the masses, other means have to be employed. Here, the visual media are most important. For this reason, The Barnes Review has decided to collect and host revisionist video documentaries on its servers for free downloading. They have been produced by young idealists, who have worked hard and are asking for no payment at all.

Needless to say we all would like to see more (and improved versions) of these documentaries. We therefore have decided to support the young movie makers by offering them direct access to the knowledge of our various expert authors, who in turn volunteer to lend their advice free of charge. Producing these videos takes not only a lot of time, but it also cost some money, mainly for software and research. In addition, we would love to pay those young movie makers a stipend when they are working on a new project worth our support. But we, in turn, depend on your generous support in order to be able to finance this.

Furthermore, the more successful our series of videos becomes, the more bandwidth we have to alot to our servers, which costs money as well. Hence the free downloading service we provide depends on donations from viewers like you.
These, therefore, are the two main reasons why The Barnes Review is asking you to support this work by donating to us. If you can help, please help us to help our idealistic authors, translators, editors and movie makers.
Thank you very much in advance!
Willis A. Carto
---
For seventeen years The Barnes Review has been at the very forefront of Revisionist History. Now, TBR needs your financial support.
If you want to help us extend our outreach, please support us by donating the amount you think you can afford. You can do this in four different ways:
Simply click on the yellow "Donate" button on the right, which will allow you to place your donation using PayPal—whether you have an account with them or not (if not, simply use your credit card; there is no need to create an account with them).

Alternatively you can call us toll-free at 1-877-773-9077 (or ++1-951-587-6936 from abroad) to place your credit card donation over the phone.

When purchasing products from us using our online shopping cart, you will be given the option during check-out to round up your total by a sum you can determine yourself.

And finally there is the old-fashion way of mailing in your donation. Please send checks and money orders to:

The Barnes Review Magazine and Bookstore
P.O. Box 15877
Washington, D.C.
USA, 20003
Thank you very much
from the HHS editor and movie coordinator